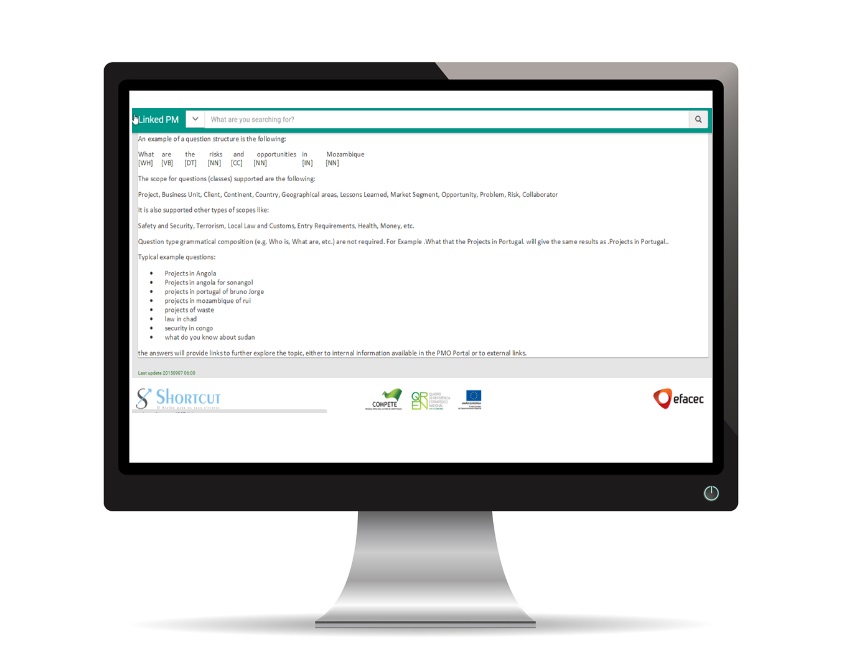 Nofishbone
Knowledge management system using client's internal data base (such as project and risk management information) and benefiting from the rich information regarding projects and countries available internet web sites (such as World Bank and Gov.uk) to support risk decisions and business development based on opportunities and threats, security alerts, financial relevant information collected.
With this solution it is possible to find the answer for questions such as:
What are the risks and opportunities for projects in Angola?
What are the issues to be taken into account in Environment projects in Morocco?
What are the business opportunities for Hydro Power Generation in Central Europe?
What are the energy sector business opportunities in Algeria?
This is an efficient and usefull tool for all companies that are interested in managing international projects, using consolidated data from existing internal and external systems.
Explore
"I can do things you cannot, you can do things I cannot; together we can do GREAT THINGS". Mother Teresa of Calcutta
Based on Open Linked Data and Web Semantic this solution was built in cooperation with Efacec and partially supported by QREN Incentives for ID Projects.
Return to portfolio